progress report:
4.14.08
Received my CDs last night! They look absolutely amazing, better than anything I had hoped for! I thought maybe the colors would bleed or be faded, but no, they are like digital photographs, crisp clear and beautiful, all in a awesome gloss finish. I'm so happy with them - I can't believe it's finally finished! Thanks to Dustin, Kari, and Kyle for helping me out so much!
I guess I could explain what it sounds like as a mix of Daft Punk, Chemical Brothers, Aphex Twin, with a little bit of punk rock. A little ambient in parts, a little drum and bass, a little techno-y, a little glitch. If you visited my MySpace you've probably heard the rough cut of Chasing The Ghost (it sounds a lot better now, all mixed and mastered to perfection), which I sing over, I guess you could say it sounds like Ministry sung over electronica.
You can purchase the hard copys at Treehouse Records at 26th and Lyndale ave south in Minneapolis for $6.99, or at the gas station on 28th and Lyndale ave south in Minneapolis for $7. I'll soon have them in Cheapo stores as well. You can also purchase just the songs above online (and secure) for $3.99. Thanks to the 11 or so odd people who have bought the album already, I really appreciate you supporting my heroin habit (haha just kidding!)
[edit 11/09: I don't think Treehouse has the albums anymore, and I'm out at the moment on CDs at the store, and also they are now only 5 dollars]
4.08.08
Haven't received the cds yet, but you can buy it the tracks on my SnoCap Store [edit 11/09: now Nimbit because SnoCap blows.]
3.25.08
fucking finally! everythings done and i'm uploading it to get 100 copies produced as i write this. thanks to kari and kyle rod and dustin duffy for helping me out so much! in a couple weeks Feels Like 0, my first retail cd ever, will finally fucking drop!! beware.....
i downloaded the cd templates directly from diskfaktory so you can see what the final product will look like
1.17.08
well we're going to master it tomorrow night, in between beers. party at dustin's! wooo!
12.23.07
Not Songworkz:
album done. maybe a few levels need to be changed but that will be fixed when we master it.
| | |
| --- | --- |
| Songworkz: | % Completed |
| Chasing the Ghost | 100% completed |
| Feels Like 0 | 100% completed |
| system0xC | 100% completed |
| Bloodeye | 100% completed |
| Defloration | 100% completed |
| aeolian | 100% completed |
| Grape Minds | 100% completed |
| Dance With Me | 100% completed |
chasing the ghost has a new beginning and end. system0xC has a altered beat. bloodeye has new parts to all sections of it. defloration has new parts to most of the sections to it. aeolian has new parts in the static and new beats over the rest. grape minds has a new bassline over this one really technoey part so now its all badass, but i think it may be a bit long but o well.
12.14.07
Not Songworkz:
Cover pictures updated
Progress Report thingy added
Songworkz:
Feels Like 0 has many new subtle touches to it. System0xC is a bit more chaotic. Bloodeye is shorter and has a new part to it.

> HOME > ALBUMS > FEELS LIKE 0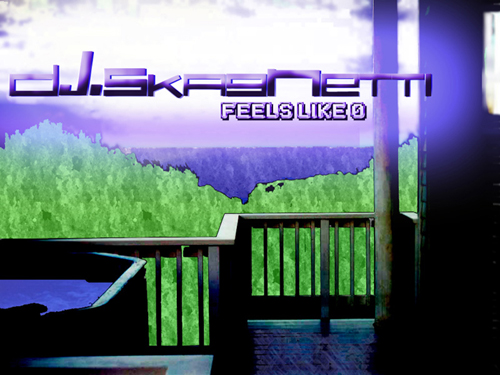 Purchase this great album for only $3.99. Some dancey stuff, some punky stuff, some really tripped out strange stuff, and some stuff that is just plain weird, "Feels Like 0" is quite the wild little ride. Sounds like: punk rock and electronica mixed, Aphex Twin meets the Ramones, with a little Daft Punk thrown in, this CD is sure to surprise many and please even more! Buy now safely and securely online through Nimbit, and within minutes you could be listening to this little assembly of electronica madness!

Total tracks 8

Total time 1 hour 2 minutes 59 Seconds

Released March 2008

Heres some more info on the tracks:

song notes:

01. chasing the ghost - This was the first time I was recorded singing, the first time singing over a song, even the first time I sang my own song in front of people. I recorded it on my birthday, Dec. 8th 2007. It was awesome, Dustin Duffy recorded it in his bedroom that night after I got off of work. It only took a few takes. Dustin later mastered the song. I had the song for about a year, I kept pulling it out and thinking how cool vocals would be over it, but never did anything about it, putting it back on the 'to do' list. A week before my birthday it just came to me that I needed to do this song and I needed to put it on this album. So a few rough drafts of lyrics later and I was ready to sing it. Here are the lyrics, such as they are:

I'm on the town, the little city, and I can't put out the fire
I'm all juiced up, I'm cut! I know I'm dreamy but I'm nothing but a liar
Shift it down, around, ya glad to see me? I'm proud to drop the sound, cause it's so easy,
and I can't go back, I'm jacked, I'll take no flak, and I'm cutting it to the wire, wire!
hoo-haa, hoo-haa, hoo-haa, hoo-haa, hoo-haa, hoo-haa, hoo - I'm the man with the gun
hoo-haa, hoo-haa, hoo-haa, hoo-haa, hoo-haa, hoo-haa, hoo - I'm the man with the Gun
And I'm tons of fun, gonna break it and run, I'm the sugary one, a little chocolate delight
And I found another secret and I won't tell you, I gotta bottle this shit, I gotta battle my youth!
I'm a star to be seen, apocalyptic machine, I'll be sweeping on in and I'm taking you out
And what you do to me, that little body, I hate to state your fate, gonna Eradicate!
Hey, kid, do you wanna get down?
Hey, kid, we'll go all over the town!
Hey, kid, do you wanna get down, and around, and around, with the sound on the town?
WAWH
I'm on my knees, begging for ya please, make me feel at ease, oh jeez! I need a doctor
Stop the pain, girl, Oooo! Can you be any crueler, did I act like a fool? Why you striking me down?
I'm like a blade trap, take that, wrack it in ruins
Then you rise up, claws up, you take me apart
I'm like a leaf on the breeze, I'll be on top of the world
Just have to say to me that
You're my little girl
Baby, Baby, come on!
You're my little girl
Oo Ding Dang Dong Dong Diggy
yah I'm laying this on the block, this little ditty
Gonna travel this across the land, and I hope that I come back a little bit Wiser, Wiser!
Martyr Rock, we'll back it to the wall, design another fall, stand tall, a little reticent
I'm a doctor of sorts, and I'm checking you out, and the bottom line is: come get your Medicine
Oo, run run, let's have a little fun, it's time to get it on, and on, let's go another round!
And pound for pound, they'll be dropping like flies, there's no need to disguise, that:
I came to get downnnn
Yah I came to get Dowwwnnnnnn
Yah I came to get Dowwwwwwwwnnnnnnn-ah

02. feels like 0 - Title track, I got the name from the weather. It's actually 4 songs frankensteined together. The last part of it with the little lead in and lead out were completely f'd up when i tried transferring it to another hard drive so now those are completely off time and I only have a copy of it in wav/mp3 form. (Edit: 2013 - Hard drive crash has since destroyed all files to this album Except the wavs and mp3s, lol.) Mastered by Dustin Duffy.

03. system0xc - The first part are looped guitar samples chopped up to hell. The second part is jazzy guitars chopped up to hell. You can hear a crappy drum from the original f'ing everything up in the second part. I did a lot of last minute changes on this one. It's title doesn't really have a meaning. Mastered by Dustin Duffy.

04. bloodeye - I so wanted to be Daft Punk on this one. Sounds like Crystal Castles a bit at the end. A lot of people have told me they like this one the most. Mastered by Dustin Duffy.

05. defloration - I wanted something for a I'd never think of so I checked out an abstract word website, and this one stuck out for the title. You actually feel like you are losing your virginity listening to this. I think the cymbals may be too quiet, just a sliver. It took me a long time to finish it. Mastered by Dustin Duffy.

06. aeolian - Not from the same site, but pretty damn abstract. It means the sound the wind makes, like whistling or howling, sounds that aren't really there. If you listen carefully to the first part, preferably on headphones, you can hear a bunch of sounds, and if you concentrate on picking those out, you start to hear things that aren't actually there through the static. The second part is some classical instruments chopped up, I glitched the beat a bit at the last stages of this song. (Edit 2013: I'm using the second part in the game Dungeon Hunters.) Mastered by Dustin Duffy.

07. grape minds taste alike - This used to be 30 minutes long, I cut it down a lot. It's pretty long still. I just wanted to make a really long song. There are 226 tracks to this song. All in all, I think it came out pretty good. It's used on the People Talk Trailer 1 and during the behind the scenes of People Talk. Mastered by Dustin Duffy.

08. dance with me - The secret hidden track! Uh, heh, Ii was just trying to be funny. Try: Failed. You can hear the song echoing back through the mic at the end. I recorded it on the crappiest computer mic ever made. Dustin Duffy did a great job fixing it up when he mastered this.

CD Artwork

Wallpaper

FL(0)

For Sale

* Thanks for listening! *