|| Sites & Sounds ||
This guy is awesome. Great actor and funny eccentric man. His Saturday Night Live sketches are the best. I've heard a Lot of people impersonate him. I've heard comedians say that you shouldn't even walk into the club without a good Walken. Jay Mohr does it the best imo. Here's some other Walken tidbits for you.
Is this link broken? Email me with details.

Christopher Walken's Three Little Pigs

Christopher Walken reads the Three Little Pigs. Hilarious

Cast of Saturday Night Live do their best Walken impersonations. No more embed feature so click here to see it.

Fatboy Slim made a wonderful song called Weapon of Choice. Then he went on to make an even more amazing video, with Christopher Walken dancing and flying around the room the music. The result is unforgettable and makes me wish I thought of it first. Check out the music video here. If the link is broken then click here to search for Weapon of Choice.

As DJ.SkagNetti I made a song a long time ago called Just Walken. It was originally set to be released on Traitor of 9 Moons, but then I thought I would release Traitor of the 9 Moons as my first retail album, so I decided to cut all the stuff I could get sued for. But I won't get sued for giving it away for free right now.

Download (click and save as)

DJ.SkagNetti - "Just Walken"

I also made a music video for it using Adobe Premiere and a crapload of photos. Please check it out
Pictures: Check out these great photos of him
Date of Birth:
31 March 1943, Queens, New York
Awards
He's won many awards during his film career, check them all out here.
Mini Biography
Amazingly versatile stage & screen actor with sandy colored hair, pale complexion and a somewhat nervous disposition. Has a reputation for playing mentally unbalanced characters on-screen, however that generalisation would not do justice to Walken's depth and breadth of performances. He learnt his stage craft, including dancing, at Hofstra University & ANTA, and picked up a Theatre World award for his performance in the revival of the Tennessee Williams play "The Rose Tattoo".

Walken then first broke through into cinema in 1969 appearing in Me and My Brother (1969), before appearing alongside Sean Connery in the sleeper heist movie The Anderson Tapes (1971). His eclectic work really came to the attention of critics in 1977 with his intense portrayal of Diane Keaton suicidal younger brother in Annie Hall (1977), and then he scooped the Best Supporting Actor Academy Award in 1977 for his role as Nick in the electrifying The Deer Hunter (1978). Walken was lured back by The Deer Hunter (1978) director Michael Cimino for a role in the financially disastrous western Heaven's Gate (1980), before moving onto surprise audiences with his wonderful dance skills in Pennies from Heaven (1981), taking the lead as a school teacher with telepathic abilities in the Stephen King inspired The Dead Zone (1983) and then as billionaire industrialist Max Zorin trying to blow up Silicon Valley in the 007 adventure A View to a Kill (1985).

Looking at many of Walken's other captivating screen roles, it is easy to see the diversity of his range and even his droll comedic talents with humorous appearances in Biloxi Blues (1988), Wayne's World 2 (1993), Joe Dirt (2001), Mousehunt (1997) and America's Sweethearts (2001). Most recently, he continued to surprise audiences again with his work as a heart broken and apologetic father to Leonardo DiCaprio in Catch Me If You Can (2002). Christopher Walken's talents continue to remain in high demand and movie audiences relish watching how capably he re-invents himself for each new challenging role.
Read More about him Here.
See his IMDB Listing.
See his Filmography.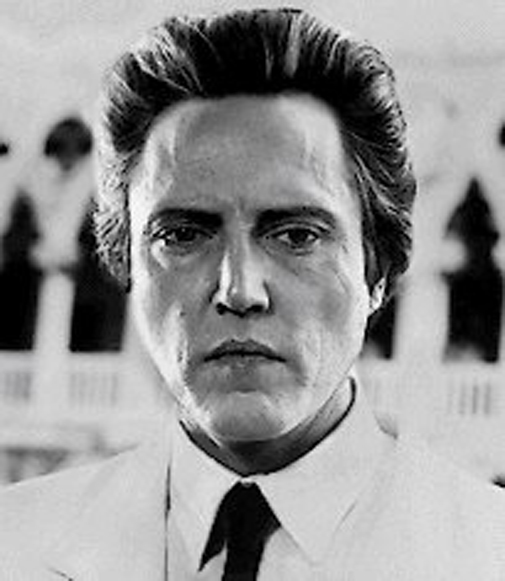 "What Happened?" - Christopher Walken
July 2009