Tag:
work
Posted by
– April 6, 2012
Posted by
– September 9, 2011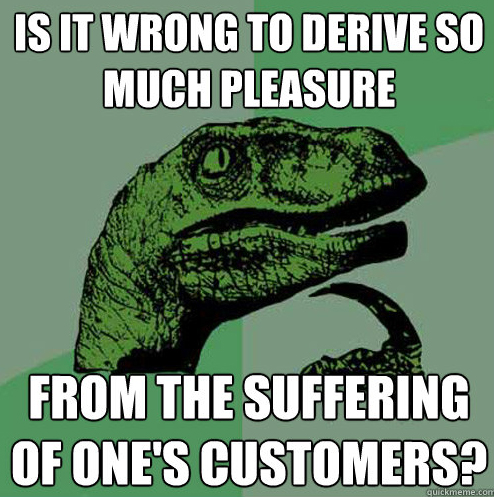 I mused about this on facebook the other day at work.  Everyone was being an asshole, but I got sweet revenge in small ways here and there.  We had very few lottery tickets for sale and everybody was all fucking butthurt about it.  TCF recently took out their ATM and people have to now pay 3 dollars with our new one to take out money, plus a bank fee if any.  It just made the sun shine a little brighter and the birdies sing a little louder.
When I got home I jumped on a meme generator, made it into a Philosoraptor slogan and up'd it as my facebook profile pic.  I may never change it again…..
Tags: awesome, book, crazy, customers, derive, dinosaur, face, facebook, from, funny, hilarious, humor, is, is it wrong to derive so much pleasure from the suffering of one's customers?, it, meme, meme generator, much, nerdy, odd, of, offensive, one's, philosopher, philosoraptor, pic, picture, pleasure, profile, profile picture, profiles, raptor, silly, so, suffering, the, to, work, wrong
Posted by
– September 3, 2011
This older Mexican man comes through where I work, and he was always really nice, but, from the first time I ever saw him, he would say, as a greeting, "Hey, you, Pikachu!" and at first I thought it was kinda odd, didn't really think anything of it.  But he kept saying it every time he came in.  And I began to wonder… do I really look like Pikachu?  So I stared at myself in the mirror for a couple hours, and decided that I don't look one thing like that stupid Pokemon character, big dummy-face Pikachu.

Tags: animated, anime, cartoon, crazy, dumb, hey, hey you pikachu, mexican, mexican man, pika pika, pikachu, pokemon, redicilous, stupid, work, you