3 hours til midnight and 2011 is gone.  It really went fast!  Tonight, as I suspect I may be catching the flu from a co-worker, I opted to stay in and quietly reflect over the year and jerk off.  I had several personal accomplishments and feel really good going into the new year, even if it is the end of the world.  So, anyways, I wanna ramble on like I'm smart, so here is the story of the VSU.
Back at the start of the year, my friend Dustin and I were talking about this guy we used to know who was a drug dealer.  He would answer stuff in the vaguest possible manner.
"Hey, man, what's up?"
"Not a whole lot…."
"What are you doing?"
"Just driving around…."
"Oh, yeah?  Where did you drive to?"
"Here and there…"
"Did you see anybody?"
"I saw a few people…"
"Did you see anything cool in your travels?"
"I saw some things…."
"Ok, well… alright then.  You take it easy.  Seeya"
And you would walk away from the conversation knowing absolutely Nothing of what he did.  After 5-15 very specific questions asking him about his day, you would know exactly as much as you did when you started the conversation, which is Nothing.  But you felt satisfied, like, "That conversation went pretty well!"  We called them Vague Drug Dealer Answers.  I suppose when you are a drug dealer this is a pretty good way of sounding like you give a fuck but not telling anybody what you've actually been up to in case they are an informant or just a dick who narcs you out.
So flash forward a couple months.  I notice, all over Facebook, that people do the same thing in their posts.  They say something vague, and it gets people interested in them for a bit.  They'll say something like, "Well my arm's broken." and that's it.  It's a well-crafted vague status update designed for a very specific purpose:  to induce sympathy or concern from a person's peers.  People cannot resist commenting on something like that!  They are physically unable to ignore it.  They Must Know!  Comments range in the form of:
"OMG DOOD/GURL R U OKAYE?" – the illiterate friend who's only knowledge of the english language is what he/she learned through texting.
"How did you break your arm?"
"Oh, good job, dumbass."
"Call me when you get a chance or text."
etc.  But they all accomplish what the op wanted:  Get Me Some Attention.  Even the good friend who sounds like a dick by saying, "Oh, good job, dumbass." is at least some form of acknowledgement.  Maybe the op doesn't answer right away, maybe they bide their time and people kinda get worked up into a frenzy – they have to comment Twice!  This is serious!  People expect the horrible, the worst that can happen.  "Come on, tell us what happened!!!"
6 hours later – "Oh, I fell down some stairs…"
Crisis averted!  That image of them getting in a horrid car crash where there's a 50-car pile up and a train is derailed and a plane crashes on the train and the train plane crashes into the 50-car pile up CAN FINALLY BE WIPED FROM YOUR MIND!  Nope.  The dumbass just fell down a 3-stair staircase because they were wasted.  Feeling alone?  Not very wanted?  Post a vague status update and watch the comments roll in!  BINGO – Your life has merit again.
So I was noticing a lot of those on Facebook.  I'm the kind of guy who's on Facebook all dayyyy, everyday.  I can update from my phone, so it's a lock – nothing gets by me, I see a Everything.  And I saw a Ton of these.  It reminded me of vague drug dealer answers.  So I posted something about vague status updates in March or April 2011 as a status update, making a joke of it, and then I forgot about it.
But a couple months later I saw this macro: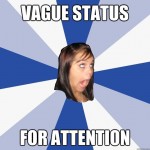 Which totally reminded me of vague status updates and vague drug dealer answers.  So I made a group called Celebrating the VSUs (Vague Status Updates), added a bunch of people around May-June, and we have been copy pastaing people's vague status updates ever since.  Click the Vague Status Updates category to the right to see a bunch of examples.  We're nice about it, we don't copy the name, or xxxxx out the name, and try to keep cities out of it, etc.  Just the update themselves.  It's been a lot of fun over the past 8 or so months!  And I'm happy to have met all the new people I have met in the group, and proud to be a part of it, and glad that I can spread a little joy to a usually otherwise joyless world.  Without all of you the group would be nothing.  Thanks, VSUers!